Vinyl Siding
Made with from polyvinyl chloride (PVC) plastic resin. Vinyl siding has come a long way over the past 30 years. With a wide range of colour and design options to choose from, there's a siding product to suit almost any style. Improved durability and resistance to ultraviolet damage ensures the cladding will look great for years to come.
Quick installation; professional installers can get the job done quickly and economically
Low maintenance; no need to paint every 2 to 3 years
Great aesthetic value; wide range of colour and design options
More economical than other siding options, such as wood
Longevity; most siding manufacturers warrant their products for 30 years or more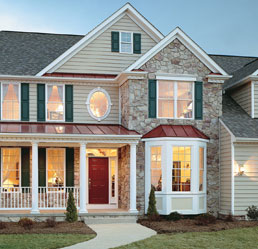 Vertical Board and Batten
Board and Batten's unique vertical profile design marries historical appeal with modern practicality. It's heavy –duty .050" panel thickness is thicker than other premium panels and 25% thicker than most standard siding- ensuring long-lasting beauty and protection for your home. Board and Batten features an authentically proportioned 7" profile with 5 ½"board and 1 ½" batten strip.
Aluminum Siding
Aluminum siding is an alternative siding option that is stress-free to clean and maintain. Aluminum siding is ideal for residential homes in areas with high levels of rain or moisture. The hard coating diminishes the formation and degradation of rust and corrosion within the product. Many advantages of aluminum siding include its resistance to fire, bugs, rot and mold. Our aluminum siding is available in a range of traditional profiles and colours. Its crisp, clean lines accentuate the home's design features and convey a freshly painted look year-round.
Smooth and woodgrain finishes
Nominal thickness: 0.40″ to 0.53″
40-year limited warranty
Not all profiles are available in all colours.

Faux Stone Panels
For a fraction of the cost, I.A.E products perfectly duplicate the texture, beauty and elegance of natural stone, wood, cast stone and brick. The lightweight construction allows for easier installation and also eliminates the need for costly load bearing walls and substructures resulting in savings up to 40% of installation costs of natural materials.
Horizontal
Concord vinyl siding shows off its versatility and visual appeal with five classic profile designs and a full selection of beautiful colors. Generous in style and solidly built, this expertly crafted siding will enhance the appearance of your home with a durable, easy-care finish.
Royal Crest a highly durable vinyl siding that exceeds industry impact standards. It features a natural wood grain finish and comes in a range of popular exterior shades. The latest Royal Crest innovation is a re-designed nail hem that provides an easier and more secure installation along with much higher wind resistance.
Specialty Siding
CEDAR SHAKE
– Deep texture is the hallmark of Foundry Cedar Shake siding. With the look of hand-split cedar, its random grooves and grain demonstrate extraordinary authenticity. Within each shake, this depth creates captivating contrast between light and shadow to heighten visual appeal.
STONE – Created with molds cast from real stone, Foundry Stone Collection Siding provides uncompromising detail and vibrant color that reflect the authentic, rugged qualities of hand-cut limestone. Our stone siding is easily hung just like our efficient Shake and Shingle panels, delivering a lifetime of expressive stone ambience.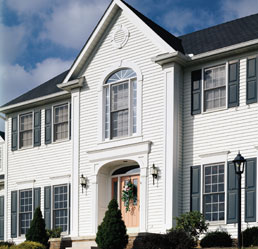 NEED MORE INFO?
If you are needing more specific information on our products feel free to click on the desired product logos below to find out more.