Add curb-appeal, protection and increase the value of your home by replacing your soffit, fascia and eavestrough. You'll find it's one of the best investments you can make by controlling rainwater, protecting the wood structure, and improving ventilation and air circulation.
Aluminum rainware in complementary colours provides an enhancing decorative accent as well as effective protection for foundations. Ventilated soffit allows air to circulate properly in the attic and rafter spaces resulting in:
Less heat build-up in the summer
Reduced moisture & condensation
Reduced risk of rot
Less chance of ice damage
More efficient air-conditioning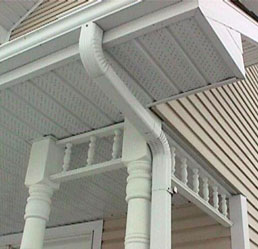 GUTTER GUARD: ALU-REX
The gutter clean system is an effective and affordable eavestrough protection system that: protects your existing eavestrough from leaves and debris, thereby eliminating the need for periodic eavestrough upkeep! Check out the ALU-REX website to get the details
NEED MORE INFO?
If you are needing more specific information on our products feel free to click on the desired product logos below to find out more.